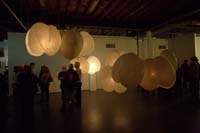 Photo by Michael Blamey. 
Plump (aka Dave Brown/ Philip Samartzis/ Marc Rogerson) (VIC)
Plump is a trio comprising sculptor Marc Rogerson and sound-artists Dave Brown and Philip Samartzis. Their project is to synthesize the spatial art of illuminated sculpture with time-based sound art. Attracted to immersive environments, Plump attempts to create a sensory envelopment of the audience where light pulsed through site-specific sculpture is juxtaposed with sounds dispersed throughout a surrounding speaker system.